About Rymanów Zdrój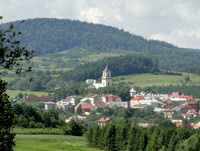 The European Youth Team Chess Championship 2017 will be held in Rymanów Zdrój, a well-developed balneotherapeutic Health Resort. It is located in south-eastern part of Poland, in Podkarpackie Province, one of the most beautiful, purest and the fastest growing region. Rymanów Zdrój is famous for its mountainous area, magnificent nature, unique climate and in recreation ground. Besides the place is known for its natural healing waters and rich in iodine air. In over 130 years of activity it has built up a reputation both domestically and aboard.
About Organizer
Accommodation and board will be provided at the "Stomil" Medical Centre in Rymanów Zdrój which will also be the playing venue of the European Youth Team Chess Championship. "Stomil" is situated on a hill, with deciduous and coniferous forest, a view over recreation area and the Tabor River. "Stomil" Medical Centre complex finally consists of three interconnected buildings with an area of 5274m2 and 83 functional rooms for about 180 guests. The opening of a new swimming pool & SPA is planned for June 2017.
Our company specializes in 10 medical profiles and offer over than 70 types of medical treatments e. g. electrotherapy, magnetotherapy, ultrasound therapy, phototherapy, thermotherapy, hydrotherapy, kinesitherapy, massage, inhalations. We also organize rehabilitation, therapeutic stays, leisure and holidays for individual guests, families and business groups.
We are known for healthy, delicious cuisine based on top quality, fresh and nutrient-enriched products.
In our Conference Centre we offer an unconventional outdoor & indoor events. Our team will ensure that all smaller or bigger events are being served by our highest standards.
Unique ground
Region is extremely rich in historical and cultural places therefore we organize domestic and foreign excursions and very interesting geographically trips.
How to find us
The nearest cities to Rymanów Zdrój with International Airports are Rzeszów and Cracow.
The organiser will arrange the transfer on arrivals and departures for participants from Rzeszów and Cracow to Rymanów Zdrój.